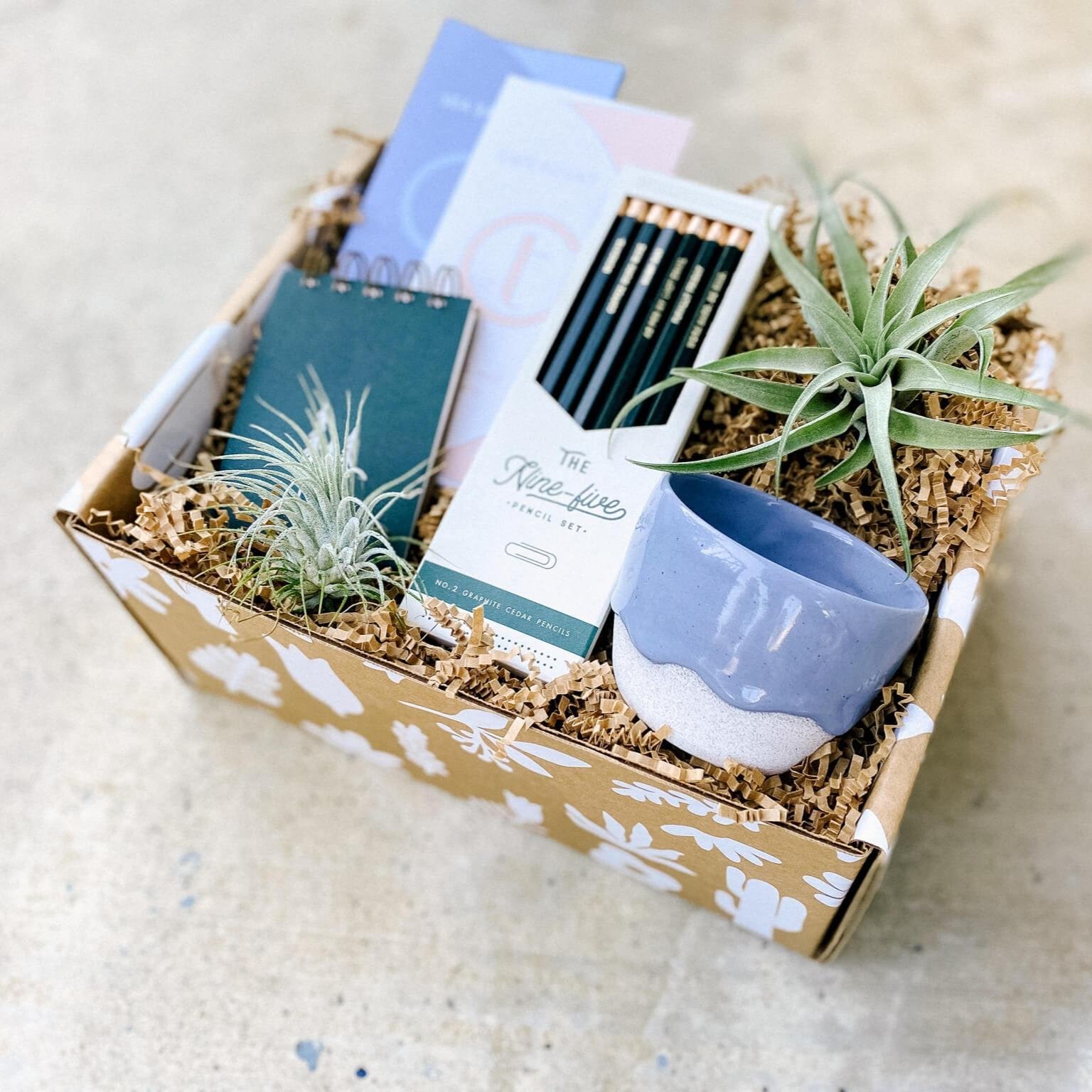 personalized plant
gift box
Are you looking for a unique and thoughtful way to brighten someone's day? 
Delight anyone who loves the beauty of nature with a curated gift box from Paloverde Botanicals, sent right to their door and packaged to perfection. It's easy to give a gift that's chic and personal.
Just 3 simple steps:
1. fill your box
Personalize your gift box with a selection of curated plants and gifts. 
Perfect for the nature lover in your life! Start by selecting one of three gift box types. Then, pick your gifts. Our gifts and artisanal goodies are sourced from other small, mission-based businesses, many of which are local and women-owned. We have a great selection of high-quality products. With so many options to choose from, you'll be able to find exactly what you're looking for.
No worries! Our boxes are sturdy for safe transit. We water your plants moments before we pack them, so they arrive fresh and lovely.
2. pick your card
Include a heartfelt, handwritten message — complimentary with every customizable gift box. 
We handwrite your message to add a personal touch. Choose a unique card from our collection of small-batch letterpress and foil stationary designs. With our selection, there's something for every occasion.
3. leave the rest to us
Enjoy a stress-free experience while we carefully package and ship your gift box. 
This is our favorite part! We handwrite your message and check every last detail. Then, we package and ship your gift with intention and care.
We ship out in 3 business days or less and all of our boxes are shipped with USPS Priority Mail (1-3 business day delivery). 
You can also request a specific ship date - lock in your order now to ensure your perfect gift arrives right on time.
Paloverde Botanicals makes it easy to give the perfect gift for someone special. Our gift boxes are truly unique because of the care and attention we put into every detail. Each plant is carefully packaged to ensure it arrives safely and in pristine condition. As a Certified California Green Business, sustainability is at the core of what we do. Since the beginning, we've planted a tree with every gift box sold. Our gift options are sourced from other small, mission-based businesses. So, by giving something good, you're also supporting something good.
We understand that the best gifts feel personal and luxurious. That's why we offer a great selection of high-quality, unique products that make it easy to personalize your gift box. And, it's stress-free for you. Order ahead of time or plan for the gift to arrive within 1-3 business days. 
Why settle for a generic gift when you can show you care with something beautiful? Our gift plant box is perfect for any occasion - birthdays, anniversaries, or just because. Have a stylish and meaningful gift delivered right to their door.